Merry Christmas: Festive greetings from the RPSBS Ltd. Board of Directors to all our members and their families; to all our state committee members and volunteers and especially our office staff.  May you all have a joyous, safe, COVID free Christmas – New Year.
RPSBS Judges: The Society has been attempting for many months to conduct an audit of RPSBS Panel Judges to ensure that contact details and seminar attendances are up to date.  In spite of numerous emails, many judges have still not completed the audit.  The Society needs to ensure that the Judges list is correct and we certainly do not want to be removing experienced judges from the list. The audit form can be found at https://www.rpsbs.com.au/wp-content/uploads/2020/08/RPSBS-Judge-Audit-2020.pdf.  Would all Judges please check the Society's database to ensure their email addresses are current.  We will send yet another reminder to those Judges from whom we have not received an audit form.  Please assist us by returning the form.
RPSBS Shows:  Our State Committees have been busily organising RPSBS events. New South Wales and South Australia hosted their state shows.Victoria hosted the Equinade Youngstock and Ridden Show on 5th December. Unfortunately, the Western Australia All Breeds Christmas Show to be held on 6th December was  cancelled due to insufficient entries. Queensland is preparing for their state show early in 2021. A reminder that Toowoomba Royal hosts a comprehensive Riding Pony program for Show Ponies, Show Hunter Ponies and Overheights in addition to the Champion of Champions Ridden classes sponsored by RPSBS Queensland Committee.
Notes from the National Office: A reminder that the RPSBS Ltd landline 02 4577 5530 is manned daily from 11am to 4 pm eastern summer time each working day. For all registration and membership inquiries please email: registrar@rpsbs.com.au.
For communications to the Board of Directors please email: secretary@rpsbs.com.au.
The office will close on 24th December and reopen the 2nd of January. 
The office is still getting a lot of calls and emails for things that members could find on the website. Breeding and ownership of horses, owner contact details etc as well as forms and fees. Members are asked to please check the RPSBS Ltd.  website www.rpsbs.com.au first and then the office when they can't find what they are looking for?  The web site is an up-to-date comprehensive source of information and forms.
The usual reminder to please don't deposit money without sending paperwork. Members requesting transactions to be processed at short notice will be charged a priority processing fee.
The next Board Meeting is scheduled for Wednesday 13th January 2021 commencing 10.00am Eastern Summer Time.  Any submissions to the Board are required by 18th December.
Remember the exhibitor, rider and handler all need to be current members to compete.
9th January – VIC Riding Pony of the Year Show
13th February – TAS State Riding Pony Show
14th February – SA Pageant in the Park
South Australia will be running a young stock show in conjunction with the SA welsh promotion group. Hopefully we will be inviting an interstate judge.
We will be running the SA Pageant in the Park show at the Murray Bridge all breed show in February. This will hopefully fit in well with the youngstock show and give exhibitors at least a couple of shows to go to.
Merry Christmas from the SA Committee
2020 NSW State Riding Pony Show Report
The new committee was keen to get to work on hosting the 2020 State Show. Last years show was held at the meticulously kept Windsor Polo Fields, and it was decided that the same venue be sought this year. The owner of the Fields was in attendance on the day, and was thrilled to see the pretty Show Ponies make use of his venue! Which is fabulous news for coming events.
The standard of ponies presented on the day was outstanding. Our three Judges Leanne Donoghue (SA), Elise Hams (SA) and Gary Alcorn (NSW) did a superb job in choosing their winners from strong fields. The Supreme Champion Senior was Rotherwood Spring Parade and  Merry Mittens of Royalwood  was Supreme Youngstock.
The Gelding Section is always a tough one in NSW. The Senior Champion was Mandaley A Touch Of Silk owned by D. Godfrey and M. Skinner. The Junior Champion was KT So Fine. It was a  fitting win as the award was made this year in honour of his Dam, KT Fine Fashion, who passed away in October. He was the third of her offspring to win this award.
The Show Hunters saw Saradale Secret Treasure be awarded the Supreme Led Show Hunter. The Over-Heights Championship was awarded to Royalwood West End along with the Supreme Led New South Wales Bred Riding Pony.
The Ridden classes were very strong with some beautiful new faces as well as proven champions vying for titles. Grand Champion Show Pony was Mirinda Mr Matinee owned by Julie Crisp. By Royalwood Boy Soprano from Rotherwood Matinee, he truly is a beautiful mixture of both parents.
Grand Champion Ridden Hunter Pony was Yartala Park Show Scene, ridden by owner Jessica Callus.
Champion Childs Hunter was Corndale Kiss'n'Tell ridden by Claudia Hughes with her big sister Annaleise taking out Champion Ridden Over-height Show Hunter on Sonos Park Timeless Encore.
We would like to thank the  ABSS for including the RPSBS Victoria, for giving us the opportunity to run the Equinade Riding pony and ridden show.
As per a request we included a senior led section to give our members the opportunity to have the chance to show their animals the ring before being Ridden.
The show had 84 entries and everyone had a good day with positive feedback.
The show was a great success apart from the wind and rain later on, we were lucky with the flying gazebo caught by our Judge Dean Mathews and Steward and organiser Tara Kirk.
Jodie Christoffersen thank you for your support finding prizes etc along with Tara for the children's class's and supporting one of the supremes, and Sandra Donovan who has been behind the scenes working away getting support for this and the RPOYS .
Without our Judge who we thank most gratefully for stepping in at short notice, we could not have run as we did, and a great job he did keeping the ring rolling along to miss the rain.
A big thanks to Amber Mawbey for live streaming some of our class's which was met with great response so we hope this can be done again at our RPOYS, 9th Jan 2021 Werribee, Schedule on line on Samms, Victorian web site, and our facebook page ASAP.
All our sponsors, donators, supporters and members, we are so grateful to you all and we welcome you back to the show ring.
A list of supporters and donators etc will be put on our Victorian web pages, thank you to everyone who contributed
Please stay safe.
Robert Cockram
Victorian Chair
Thank you to Paul Morath for the following photos of our Supreme Winners:
CLASS 60B, SUPREME SENIOR LED RIDING PONY EXHIBIT
LIBBY GRESHNER , BEAUPARC QUEEN OF HEARTS
CLASS 48b SUPREME CHAMPION RIDDEN RIDING PONY EXHIBIT, MONICA CROSTON,GERRARD,SABRINA & STELLA GILMOUR,
YURRUGAR SUPERMODEL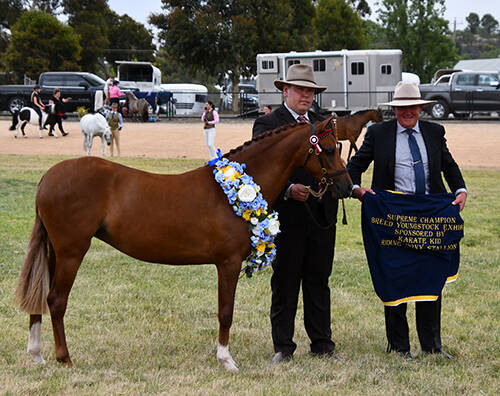 CLASS 36b,SUPREME CHAMPION OTHER BREEDS YOUNGSTOCK EXHIBIT,
PETER BARRY, MIRINDA MISS MINK
CLASS 24b,SUPREME CHAMPION RIDING PONY YOUNGSTOCK EXHIBIT,
PETER BARRY, MIRINDA MISS MINK